WE MAKE A LIVING BY WHAT WE GET, BUT
WE MAKE A LIFE BY WHAT WE GIVE.
Winston Churchill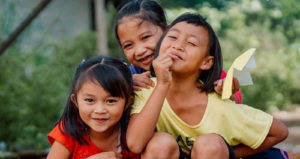 Releasing Children From Poverty
Compassion is an incredible charity designed to help children from around the world suffering from poverty stricken living environments. What makes this charity so compelling is that for $1.28 per day you not only provide a child with an education, but through the school you will also be providing clothing(uniforms), a minimum of 1 hot meal per day, clean water, basic medical care, and last but certainly not least, you provide them with hope for their future. Participating donors can also download the Compassion app on their phone making it easy way to write letters to your child and receive letters in return. It will also allow you to do special things for your child's birthday, Christmas, or any other special occasions. It is also a great way to involve your family and to give your kids the opportunity to get to know their "Compassion brother or sister" Below is the link to starting your sponsorship. Contact me with any questions. I can honestly say from personal experience, that although your sponsorship will change the child's life, it will change your life more.
Interested in Donating?

Should you be interested in being part of any of these charities, Franchise Marketing Systems will not accept donations on any charities behalf, but would be happy to connect you directly with the leadership of the particular of charity you are interested in.
If you are a charity looking for support and potential contributions, please send an email to Franchise Marketing Systems at
[email protected]